Nobel Commercial Light Controller LC-8 120V/240V
Details
LC-8 Universal 8 Outlets 120/240V 60 Hz
SKU#95202

Description

♦ Controls up to eight 1000W high-intensity discharge (HID) ballasts, including both metal
halide(MH) and high-pressure sodium (HPS) lighting systems.
♦ Integrated 120V trigger cable facilitates any timed lighting sequence when connected to a
standard 24-hour timing device or another environmental controller (available separately).
♦ Green LED indicator illuminates when LC-8 is activated and ON via the trigger cable function.
♦ Composed of high-quality components for reliable f long-term performance.
♦ Wall-mountable.
♦ 1-year warranty.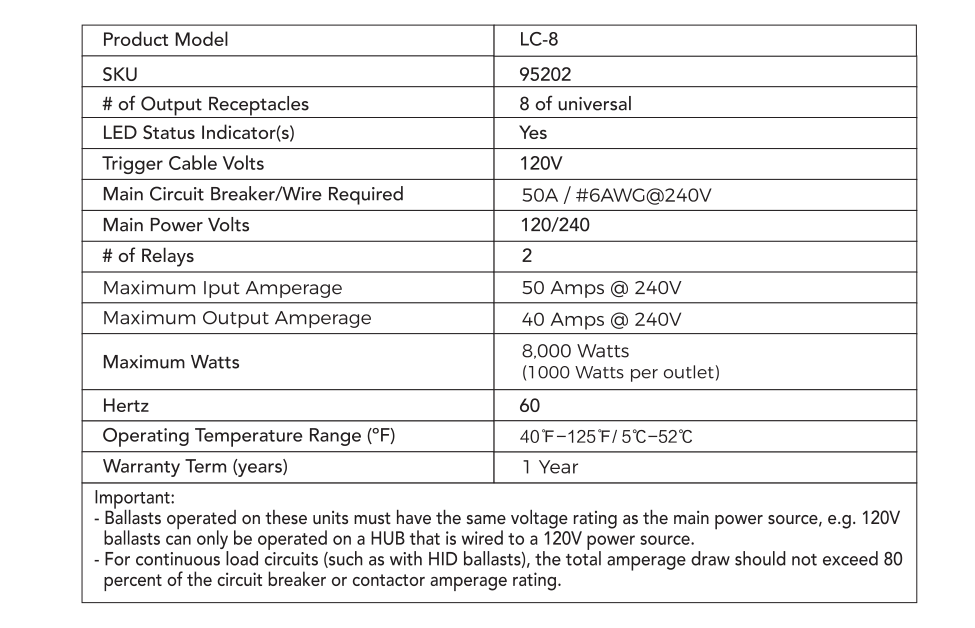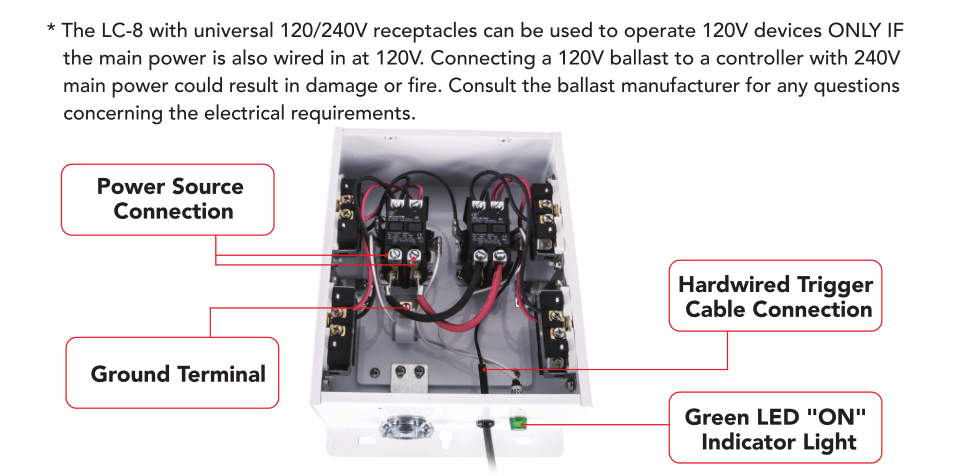 Production Installation
♦ Use a Phillips-head screwdriver to remove each of the four screws securing the front cover to the back casing.
♦ Feed the properly rated main power cable into the cable clamp and tighten the clamp to secure the cable in place.
♦Insert the green or bare ground wire into the grounding terminal and secure it.
♦ Strip the insulation from the main power wires. Insert and tighten each bare wire end into the corresponding connection point on the power relay (marked as "main power connections").
Loose connections will cause relay terminals to overheat, resulting in damage. Failure to properly connect main power wires will void the warranty.
♦ Turn on the circuit breaker or connect the main power cable connection. The LC-8 will now be powered.
♦ Use a voltage meter to verify the correct voltage BEFORE plugging ballasts into the LC-8. If connected to a 240V circuit, the voltage meter should read approximately 240V If connected to a 120V circuit, the voltage meter should read approximately 120V
♦ Once all voltage has been verified, carefully reinstall the front cover.
Sold in:
Single Unit: $255.00
2-49 Units: $230.00 each
50-99 Units: $215.00 each
100-200 Units:$200.00 each